Biography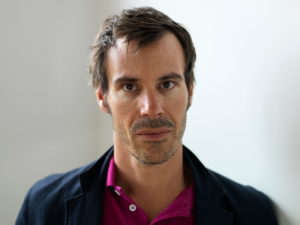 Photo © Cyril Weiner

Alexis Cordesse (Paris, 1971) is a French photographer whose work with the images is often associated with words and sound to produce hybrid photographic objects which explore the part of lack of the images and their relationship to the historical narrative.
Starting his career as a photo-reporter, he covered the major conflicts of the post-Cold War period. From the mid 1990's, in search of new forms, he went away from the practice of photojournalism. He return to such places as Rwanda or Palestine with other plastic requirements to propose forms likely to reflect a reality other than that which usually reaches us through the media. His artistic research is based on a critical reflection the ethics of the testimony.
His work has been shown at the Dokumenta XI (Kassel, 2002), at the ICP (New York, 2003), during the Month of Photography in Paris (2010 & 2017), at the Nicéphore Niépce museum (Chalon s/s Saône, 2021). It is also held in many permanent collections, including the French National Library, the French National Art Collection of Contemporary Art, the FRAC Auvergne, the Nicephore Niepce Museum, les Rencontres d'Arles, the Neuflize OBC collection. He was selected to participate to the first World Press Mastercalss in 1995. He was awarded Lucien & Rodolf Herve Prize in 2010, and Arcimboldo Prize in 2011.
Solo exhibitions
2022
Talashi, festival Fotografia Europea, Palazzo Magnani, Reggio Emilia, IT
2021
Présences, Musée Nicéphore Niépce, Chalon s/s Saône, FR
2017
Olympus, Maison des arts de Malakoff, FR
2014
Rwanda, wounded vision, Kazerne Dossin museum, Mechelen, B
Borderlines, Centre Atlantique de la Photographie, Brest, FR
Rwanda, Les Douches The Gallery, Paris, FR
Confession / Absences, Ikono Gallery, Brussells, B
Rwanda, wounded vision, Armenian heritage center, Valence, FR
2013
Borderlines, Khalil al Sakakini cultural center, Ramallah, PAL
Public Pool, Confluence Gallery, Nantes, FR
Borderlines, 20e Rencontres photographiques, Lorient, FR
2012
Borderlines, French Institut, Jerusalem, ISR
Borderlines, French Institut, Gaza, Ramallah, Naplouse, PAL
Borderlines, Artothèque de Caen, FR
2011
Borderlines, Galerie Photo 12, Paris, FR
2010
Borderlines, Ecole speciale d'Architecture, Month of Photography, Paris, FR
2007
Artist in residence, Saumur, FR
2006
Good Work!, Atlantic Center of Photography, Brest, FR
Good Work!, Agora Theater, Evry, FR
2005
Good Work!, Ancienne Poste Gallery, Calais, FR
Good Work!, La Manufacture, Nancy, FR
2004
Public Pool, La Peripherie Gallery, Malakoff, FR
Aux Quatre Chemins, Elsa Triolet Library, Pantin, FR
2003
La Bruja, Nikon Images House Gallery, Zürich, CH
Selected group exhibitions

2023
50 years in the eye of Libé, Abbaye de Montmajour, Rencontres d'Arles, FR
2022
To heal a world, Rencontres d'Arles, FR
Museums in exile, MO.CO., Montpellier, FR

2021
To heal a world, International Red Cross and Red Cressent Museum, Geneva, CH
HIV, pandemia is not over !, Mucem, Marseille, FR

2020
Les Douches Gallery at Vichy Portrait(s) festival, FR
2019
Contre-History, Hôtel Fontfreyde, Center for photography Clermont Ferrand, FR

2018
A museum for Palestine, Institut of the arabic world, Tourcoing, FR
2017
A museum for Palestine, Institut of the arabic world, Paris, FR
2016
The eye of the expert, Nicéphore Niépce museum, Chalon-sur-Saône, FR
À fendre le cœur le plus dur, Témoigner la guerre / regards sur une archive, Center for Photography Île-de-France, Pontault-Combault, FR
2015
A brief history of the futur, Louvre museum, Paris, FR
"I love panoramas." Appropriating the world, RATH museum, Geneva, CH
"I love panoramas." Appropriating the world, MUCEM, Marseille, FR
In all Directions, Nicéphore Niépce museum, Chalon-sur-Saône, FR
2014
In the decay of the world, the grateful photography, H2M, Bourg-en-Bresse, FR
2013
Jerusalem, Izmir, Alger, Les Douches The Gallery, Paris, FR
Urbi & Orbi, Sedan Photo Biennale, FR
2010
Clichy sans clichés, French Institut, Berlin, D
2006
Clichy sans clichés, Paris City Hall, FR
Clichy sans clichés, Espace 93, Clichy-sous-Bois, FR
2005
Prisoners of the image, Centre d'histoire de la résistance et de la déportation, Lyon, FR
2004
2/15 – The day the world say no to the war, Paul Smith, New York, USA
Europa, the soul of the cities, Septembre de la Photographie, Lyon, FR
2003
Strangers, First Triennial of Photography and Video, ICP, New York, USA, with Eyal Sivan
2002
Dokumenta 11, Kassel, Germany, with Eyal Sivan, D
Books & Catalogs
2022
Talashi, Atelier EXB / éditions Xavier Barral, FR

2020
I wandered through the drowsiness of opposite worlds, limited edition portfolio, selfpublished

2011
Borderlines, portfolio – Nicéphore Niépce Museum & Artothèque de Caen, FR

2010
Catalog Lucien & Rodolf Hervé Prize 2010, Vimagie, FR
2005
Du Beau Travail!, with Zoé Varier, Editions Trans Photographic Press, FR

2004
Europa, l'esprit des villes, Editions Lieux dits, FR
Generation X, World Press Photo Masterclass – First Decade, Gijs Stork Publisher, NL

2003
2/15 – The day the world say no to the war, Editions Hello, New York, USA
Strangers : The first ICP Triennial of Photography and Video, Steidl, GR

Awards & Grants
2022
Grant for contemporary documentary photography, Centre National des Arts Plastiques, FR
2020
Shortlisted Luma Rencontres Dummy Award Arles 2020
2019
Grant for contemporary documentary photography, Centre National des Arts Plastiques, FR
2016
Grant National Fondation for Graphics and Plastics Arts,  FR
2016
Shortlisted Niepce Prize, FR
2011
Arcimboldo Prize,  FR
2010
Lucien & Rodoph Hervé Prize, FR
2010
Grant of research, Centre National des Arts Plastiques, FR
2010
Shortlisted for the Villa Medicis – French Academy in Rome, FR
2010
Shortlisted Neuflize-Vie Foundation Award, FR
1997
Merit Award, San Fransisco International Film Festival, USA
1997
Mention special, Bilbao international short-film festival, SP
1995
3rd prize Observer Hodge Award, UK
1993
World Press Photo Masterclass, NL
Collections
Nicéphore Niépce Museum
French National Library
French National Collection of Contemporary Art
Rencontres d'Arles
FRAC Auverge
Neuflize OBC collection
Swiss Life Foundation
Artothèque d'Annecy
Private collections
Films
1997
Foca, Absolut Serbia, with Eyal Sivan, docu – 13′ – Momento! & Etat d'urgence production
Kaboul, war weary, with Eyal Sivan, docu – 13′  – Momento! & Etat d'urgence production
1996
Itsembatsemba, with Eyal Sivan, docu – 13′ Momento! & Etat d'urgence
Burundi under terror, with Eyal Sivan, docu – 13′ – Momento! & Etat d'urgence production
Tertiary education

2021
Master II of Fine art & contemporary creation – with first class honors – Sorbonne University, Paris, France
2017
Bachelor of Fine art & contemporary creation – with first class honors – Saint-Denis University, France
Workshops & lectures
2023
"New ways of representing the war", SciencesPo Univerity, Paris (lecture)
Associated teacher at the Sorbonne University, school of Fine Arts, Paris

2020
National School of Fine Arts, Clermont Ferrand, FR (lecture)
2017
Ciné Fabrique, National school of cinema & multimedias, Lyon, FR (workshop)
2016
Ciné Fabrique, National school of cinema & multimedias, Lyon, FR (workshop)
French Institut, Cotonou, BE (workshop)
2015
Ciné Fabrique, National school of cinema & multimedias, Lyon, FR (workshop)
2014
Albert Khan Museum, Boulogne-Billancourt, FR (lecture)
2013
Imperial War Museum, London, UK (lecture)
2012
National School of Fine Arts, Châlon s/s Saône, FR (workshop)
2012
Academy of Art, Ramallah, PAL (workshop)
Nicéphore Niépce Museum, Châlon s/s Saône, FR (lecture)
2011
Lecture, Louis Lumière National High School, FR
Jury member, Louis Lumière National High School, FR
Lecture, seminar of Michel Poivert, INHA, Paris, FR
2011
Workshop, National School of Fine Arts, Châlon s/s Saône, FR